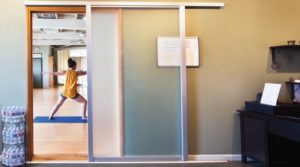 There is a new rising trend in the custom building world that is stemming from the Baby Boomer generation. Many people from this era are approaching their retirement age and with this comes a new sense of freedom and time. We are noticing that many Baby Boomers are choosing to use this time to build their final dream home. More specifically, they are building this home around the wheel chair they are not yet living in. This is creating some obstacles when it comes to the design of their homes.
In order to have wheelchair access to the entire home, details and standards must be met. A wheelchair needs a minimum of a 36 inch wide doorway in which to pass. This is a standard door size but not all doors need to be this wide in an average house. Closet doors and bathroom doors are not necessarily places you need a very wide door and it's a good way to save some cost throughout your home. If you are looking into building the last home you plan to live in or simply want take this idea into consideration for the future sale of your home, these are some things you may want to consider.
Not only is the width of the door important, but also the swing of the door. In most cases you will not be able to maneuver a wheel chair around a door while opening and closing it. The best solution are interior sliding doors, such as pocket doors, whenever possible. This becomes a vital space saver in a home where movement is highly limited.
Another focal point of the doors in a handicap accessible home are the thresholds. Most doorways that sit between an interior and exterior space will have a raised threshold to separate the two areas. This can be found between a garage and the mudroom or between the entry and front porch. In order to have a handicap friendly home these thresholds cannot exist. They will prohibit access to certain areas of the home if you are living in a wheelchair. To avoid this issue, make sure the entire floor surface of the home is entirely one level, including showers.
Standing tile showers have a curb in the doorway to keep water from trickling into the rest of the bathroom. There are showers now called curb less showers that have no raised step creating a continuous flow into and out of the shower. In order to have a wheelchair accessible tiled shower, you will need this curb less feature alongside a 36 wide shower door opening. If you prefer a shower door, a frameless door will work best for you. This door will not require a threshold along the step that most hinged and sliding shower doors require.
The doors and doorways are just one small aspect when it comes to entire home. But they can play a large part when designing your home for a very specific need. In this case, they play a very important part in creating a wheelchair accessible home that everyone can enjoy.
Source: http://www.knrslidingdoors.com/